What's New in Version 2
Here you can see information on the latest releases of the program. Get notifications about new releases. RSS Feed
New and improved features
Optimized the remote operations statuses check for environments with lots of machines
Improved operation flow diagnostics within the execution results
Resolved issues
Pressing the Enumerate button when the grouping row in the All Machines view is selected leads to the application failure
Build 2.0.2
March 6, 2018
New and improved features
The Wake on LAN operation status check is improved to allow checking the Machines running operating systems other than the Microsoft Windows family
Resolved issues
The NetBIOS and DNS name validation procedures are too strict, thus do not allow to add PCs manually in specific environments
Build 2.0
January 25, 2018
Advanced features in all editions
Now both the Free and Professional editions of the program include the following advanced features: executing WOL operations in dynamic groups of PCs, creating reusable tasks and scheduling tasks for automatic execution.
The Free edition includes all the advanced features with a few limitations, namely: a single WOL operation can include up to five remote PCs and it is possible to create up to two tasks. The Professional edition of the program does not have any limitations.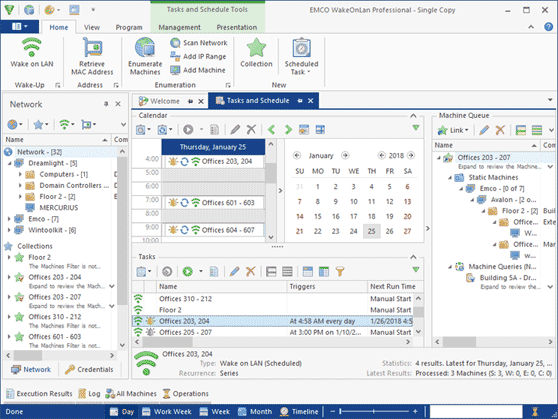 Run as a Windows service
The Professional edition of the program works as a Windows service. The service continues running and executing scheduled tasks even you log off from Windows or restart the computer where the program is installed.
Common database for all users
The Professional edition of the program allows all the users to work with the same database that stores the network configuration, the tasks, the execution results, etc. All Windows users utilize the same database, and the program allows two users to work concurrently.
In the Free edition of the program, every Windows user works with their own database.
Execution status reporting
Now, having executed a Wake-on-LAN operation, the program checks the execution on target PCs. The results are reported in the Execution Results view. If the target host has been woken up and started to respond, you can see the successful status in Execution Results, or see a failure otherwise.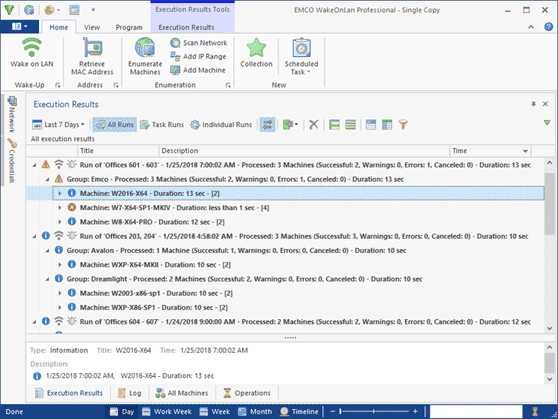 New and improved features