25,000+
Customers Worldwide
3,000,000+
Managed Devices
What's New
Introducing Ping Monitor v7
The new version of Ping Monitor allows monitoring connection quality to measure the real-time quality of connections between the monitoring server and the monitored hosts. Connection quality is calculated using different metrics to estimate the quality as good, warning, bad or critical.
The program offers some new features helping you to analyze host statistics for historical periods, so for every host you can see its uptime, packet loss, latency, CV, MOS and other metrics. Ping Monitor also provides access to raw ping data, which is displayed on the timeline chart and can be exported into a file.
The Enterprise edition of the program includes an improved web interface and special views designed for control rooms that display the host state and the connection quality of all the hosts on a single screen.
Learn More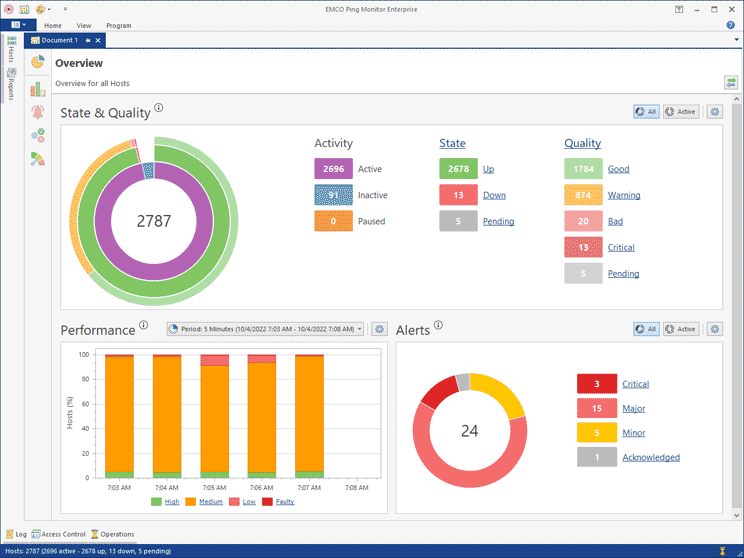 Products for IT Teams, from Startup to Enterprise
Find a product to automate software packaging, deployment, network auditing, computer power management, network protection and other network management tasks.
What Experts Say
I think that EMCO Ping Monitor has a lot to offer in a crowded server monitoring space. EMCO stands up well in the face of its competition by offering the busy systems administrator low cost, low management overhead and reporting capability.
EMCO MSI Package Builder is one of the better stand-alone MSI packaging tools that I've had a chance to work with and it lets you create MSI packages quickly and easily from non-silent .exe setup files.
EMCO is Trusted by