Create MSI Packages and Convert EXE to MSI With No Hassle
EMCO MSI Package Builder is an innovative installation editor designed for an effortless creation of MSI packages. It helps you create MSI packages automatically by using the changes tracking technology, or manually by using the visual editor. The application can be used to repackage legacy installations and convert EXE to MSI files in order to customize installers and prepare them for a silent remote deployment. Thus created packages can be deployed through Group Policy or EMCO Remote Installer.
What is EMCO MSI Package Builder?
EMCO MSI Package Builder is an installation authoring tool designed to help administrators to create, maintain and distribute Windows Installer packages. It can be used to create MSI packages easily, to modify existing installations and to repackage setups from the EXE to MSI format.
EMCO MSI Package Builder is specially designed to repackage non-silent EXE installations into silent MSI packages and is one of the most capable packaging tools on the market. Using it you can easily convert installations into MSI packages. The program allows to repackage complex installations, including those that deploy Windows services, drivers, etc. The program can package installations into MSI, App-V, MSIX/AppX formats.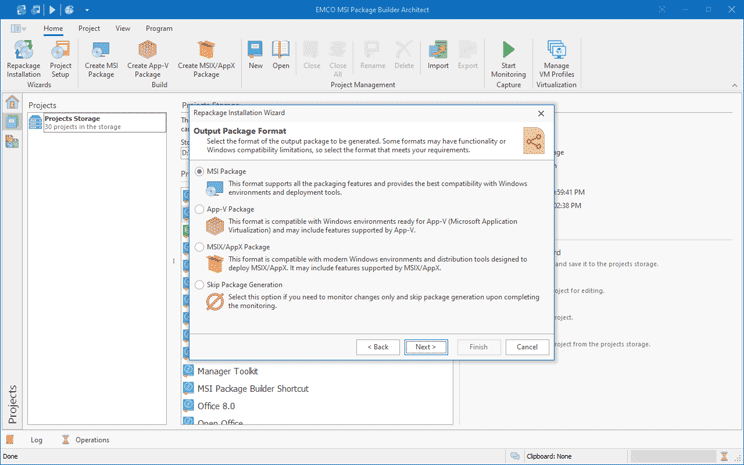 EMCO MSI Package Builder: How to Create an MSI Package?
How to make MSI packages and what are the advantages of using EMCO MSI Package Builder? The application simplifies installation authoring by making use of the visual editor and changes tracking technology, which is used to generate installation project data. To create an MSI, you can certainly follow the traditional way and specify the installation resources and actions through the visual editor, but it is more efficient to use the Live Monitoring technology. How monitoring works
When monitoring is enabled, the application detects the file system and registry changes undertaken on a PC and uses them to build an MSI. You can make the required changes manually to get an installation that will reproduce them or monitor actions of the existing installations in order to convert them from the EXE to MSI format. Repackaging demo
Learn More:
Compare Features and Select the Edition
The program is available in three editions with the different set of the features.
Compare Editions
Professional Edition
The Professional edition includes a visual editor and a changes monitor. It can be used to create MSI packages manually by means of the editor or automatically with the help of the changes monitor. It allows EXE to MSI repackaging and modifying existing installations. The visual MSI editor that can be used to build MSI packages easily.
Enterprise Edition
The Enterprise edition is an advanced builder and repackager that can be used to create MSI packages and convert complex installations into the MSI format. Its changes monitor can track service installations and environment variables changes. It can repackage installations also using the installation wrapping method.
Architect Edition
The Architect edition includes all the available installations repackaging and MSI editing features. In addition to MSI generation it can also generate App-V, MSIX/AppX packages, so it allows repackaging installations into MSI packages and also converting existing applications into App-V, MSIX/AppX packages. The same installation project data can be used to generate MSI, App-V and MSIX/AppX packages.
The Main Features of EMCO MSI Package Builder
EMCO is Trusted by