Remote Shutdown - Free Shutdown and Wake-on-LAN Tool for Networks
This power management software allows you to manage network PCs from a central location and run remote Shutdown, Wake-on-LAN, Reboot, Sleep and other operations on multiple network PCs remotely. Remote operations can be executed manually on demand and automatically on schedule, so you can fully automate power management operations in your organization. The program is designed to support networks of any complexity.
20
Christmas Sale
Order any new licenses and upgrades at a special price until December 31, 2019.
What is EMCO Remote Shutdown?
EMCO Remote Shutdown is software that allows you to run remote Shutdown, Wake-on-LAN and other operations on selected network PCs. You can run the operations manually or schedule them for automatic execution. The program doesn't require any manual agent installation on remote PCs or a specific network configuration. All remote operations are easy to configure and run across a network.
EMCO Remote Shutdown is a PC power management tool for networks that allows you to automate power management in your organization. You can remotely shut down, wake up, reboot network PCs with a few mouse clicks and schedule these operations for automatic execution. It helps to reduce power consumption in your organization.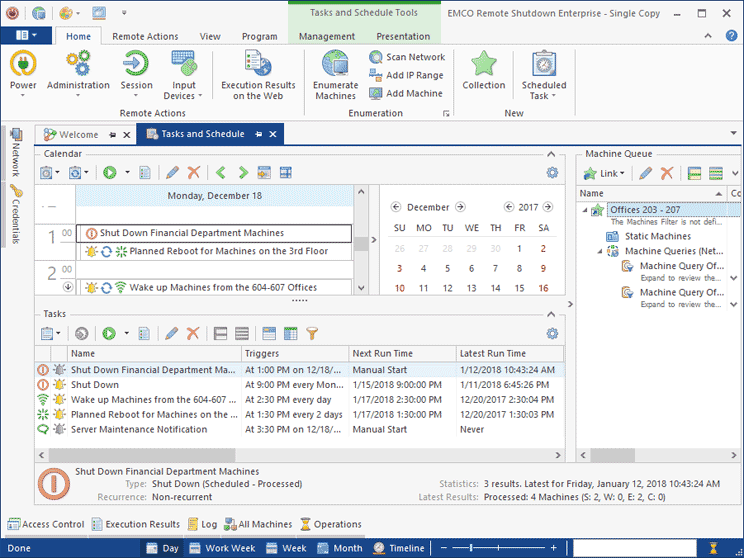 EMCO Remote Shutdown: How it Works?
The program allows you to enumerate your network and discover available PCs in all domains and workgroups. To configure a remote operation you need to select the options of the operation and select target PCs where the operation should be executed. You can select target PCs manually or enter a query to select them automatically. A remote operation can be executed on demand or automatically on a schedule only once or on the regular basis. The execution results for every target PC is displayed in the program, so can make sure that the operation was executed successfully. The program is optimized to work in large networks and executing remote operations on many PCs in parallel.
Learn More:
Compare Features and Select the Edition
The program is available in three editions with the different set of the features.
Compare Editions
Free Edition
The Free edition allows running a remote operation on up to 5 network PCs. It allows creating up to 2 tasks of every type. This edition works as a Windows program, so the execution of scheduled tasks stops if you close the UI or log off from Windows.
Professional Edition
The Professional edition doesn't have limitations for the number of targeted PCs in a remote operation and allows creating an unlimited number of tasks. It runs as a Windows service, so a scheduled execution continues even if you close the UI or log off from Windows.
Enterprise Edition
The Enterprise edition doesn't have limitations for the number of targeted PCs and created tasks. It works as client/server. The server works as a Windows service to execute scheduled tasks in the 24/7 mode.
Clients can be installed locally or remotely and can connect to the server through a LAN or the Internet. They can work concurrently to manage scheduled tasks, run remote operations and check execution results. This edition also provides web access to execution results of remote operations.
The Main Features of EMCO Remote Shutdown
EMCO is Trusted by