Create Software Audit or Inventory Report in Just Few Minutes
It's not a pipe dream, it's a reality - with EMCO Network Inventory now you can generate upscale inventory audit report in few mouse clicks. Generation process is fully automated and application automatically collects all required hardware and software assets information from remote PCs. You only need to define asset information and a set of PCs that should be included into inventory report. Reports are fully customizable and can not only include your name and company logo, but can be totally reorganized according with your needs.
Inventory Audit Reporting - a Mission for True Heroes?
If you ever prepared inventory report or software license compliance report or any other IT audit report before, you know that it's a mission for true heroes. To prepare even simple hardware and software report for just one computer manually you need to collect hundreds parameters from Windows settings, registry, configuration. Only this simple preparation step can take few hours, but then you need to invent a simple and clear data presentation and compose a report. It doesn't look like a problem (at the end, it's similar to other admin assignments) until... you need to repeat this process for every computer in your network. And when, after few days or weeks, task will be finished, you understand that configuration on some computers was changed and you need a new asset audit report.
Do you still create inventory report and compliance report manually, because you guess that automatic audit solutions are too expensive? Or did you try some audit tools with no luck? Imagine how many time and efforts you can save with a fully automatic tool that will do all inventory reporting tasks instead of you? This tool is EMCO Network Inventory - complete and affordable solution for remote IT inventory, software compliance and audit reporting of entire network infrastructure. It can work both in domain and workgroup and helps you to produce various printable inventory audit reports about your hardware and software assets. Do you want to try it? Download a free evaluation version of EMCO Network Inventory now and free yourself from routine reporting tasks.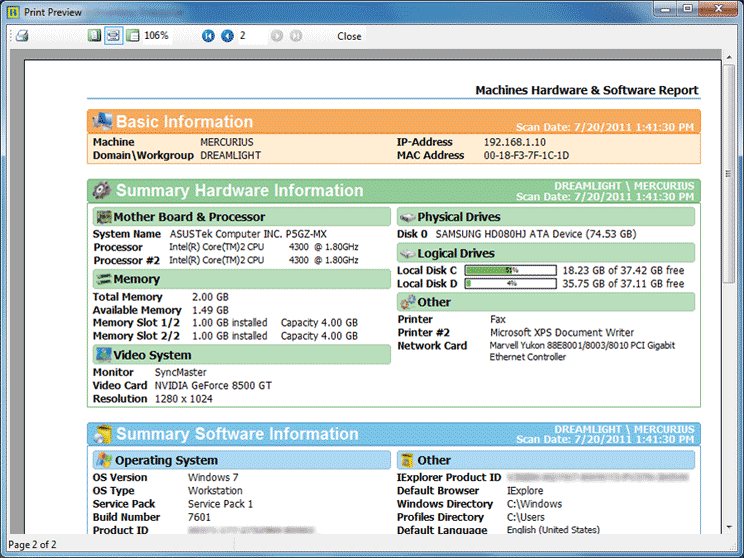 Features and Benefits: Remote Inventory Report Software
Automatic Inventory Report Generation
When detailed IT assets audit information is automatically collected from remote PCs, you are only one-click away from getting comprehensive inventory report. To build it you only need to select the report type and choose what information that should be included.
Hardware and Software Inventory Reports
Inventory report includes hardware and software assets audit information for all PCs, particular PC or group of PCs depending of your needs. It can be configured to provide just high-level overview or detailed audit information about every found asset, including all its parameters.
Software Compliance Report
A special type of software audit report helps you to find unused and unlicensed software and guarantee license compliance. Software compliance report includes information about the total number of installations and available licenses for every application used in your network to identify license shortages and excesses.
Visual Custom Report Builder
All collected audit information is stored in the database that can be used to produce custom audit reports. A special report builder allows modifying existing or creating custom reports, benefiting from easy-to-use visual design interface. You can also use external tools to build reports using collected audit information from database.
Easy Reports Customization
Any predefined report can be customized without its physical modification to include company and author identity. You can easily modify titles or include your name, company name and logo through preferences settings without touching and modifying report itself.
Save/Export to PDF and Other Formats
After report generation you can send it for printing or save it as file for further reference. Supported export formats include PDF, RTF, HTML, Plain text, JPEG. You can also export any chosen data displayed on screen to MS Excel, MS Word, PDF, HTML, Text file and other formats.
EMCO is Trusted by