Software Auditing Tool to Collect Software Inventory Information Remotely
With EMCO Network Inventory you can always have clear and up-to-date information about all software assets in your entire network to increase effectiveness of asset management, guarantee software license compliance and minimize licensing costs. For every computer in your network you can always have detailed software inventory information about installed applications and automatically detect software compliance violations. You also can protect network from appearing of unwanted installations or resources by timely detection them on remote PCs.
Automatic Software Inventory - Your IT Budget Optimizer
As you may know, software licenses are pretty expensive and significant part of IT budget goes for software purchasing and maintenance. But are you sure that these costs are distributed by the optimal way? Very often companies and organizations waste large amounts for purchasing of unused applications, while they have a lack of licenses for other often-used applications, or they spend on licenses maintenance more then required. Is it a known situation for you?
In order to make considered decisions and organize your software asset management, you need to have software inventory information. If you tried to audit installed software manually, you know that it's a very ineffective and requires too many time. If you tried some tools to automate software auditing, you may know that often you don't get valuable application inventory information in a usable form.
What if every time when you need to make software purchasing, you can get fresh software inventory report generated automatically in few minutes? How effective your decisions can become in this case and how many costs you can save? You can bring your software asset management to a new level with EMCO Network Inventory. It will not only collect application inventory information from remote PCs in automatic mode, but also use this information to produce software inventory and software compliance audit reports.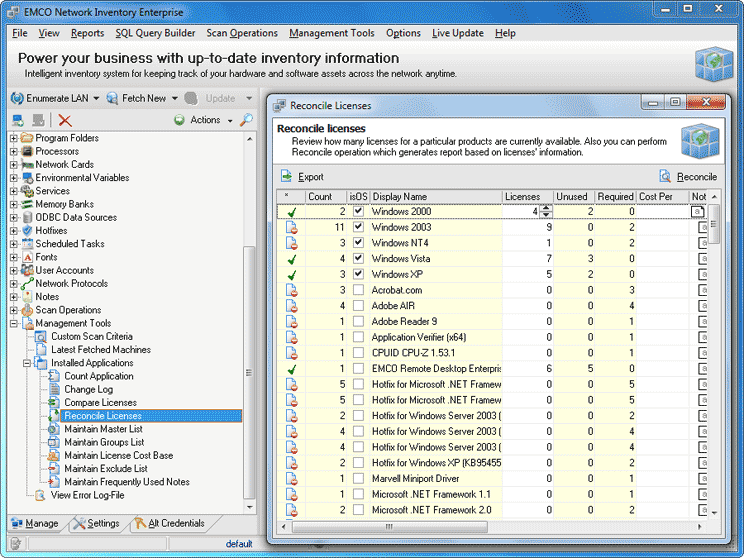 Features and Benefits: Software Compliance and Inventory
OS and System Information for Every PC
Detailed OS report is a part of software audit information collected from remote PCs. It includes basic OS information, such as OS name, type, service pack as well as system configuration and runtime information like services, running processes, shares, startup commands, scheduled tasks, installed hotfixes, etc.
Installed Software Inventory
You can scan selected PC or group of PCs remotely in automatic mode and get a list of installed applications. Installed software audit report for each PC looks similarly to Add/Remove Programs summary and includes application name, version, publisher, installation folder and application installation date.
Software License Compliance Audit
Collected application inventory information is automatically aggregated to display a total number of installations across the network for each application. It is represented by a special reconcile license report, where you can enter a number of purchased licenses and get a required and unused licenses count.
Installation Changes Tracking
Changes in the list of installed applications are automatically detected for each PC in your local network. It saves you from analyzing complete inventory report each time when you make software audit. Instead, you can compare actual software inventory information with results of previous scan and analyze changes only.
Detect Software Policy Violations
A special feature allows you to scan registry and file system on remote PCs and find set of files, folders and registry entries according with specified conditions. It is helpful in cases when you need to find unlicensed or forbidden content, such as movies, music, pictures or to detect specific applications, viruses, etc.
Extract Software Serial Numbers
Windows serial number and product keys for MS Office are automatically extracted from remote PC during software audit scan. Set of reported keys includes Windows product ID and Windows digital product ID, MS Office product ID, Internet Explorer product ID. It saves you from collecting these keys manually.
EMCO is Trusted by