What's New in Version 6
Here you can see information on the latest releases of the program. Get notifications of new releases. RSS Feed
Version 6.1.1
November 30, 2021
The Backstage view
The new Backstage view allows you to access the main features of the program and change the program preferences. It also displays the recent file system resources managed by the program.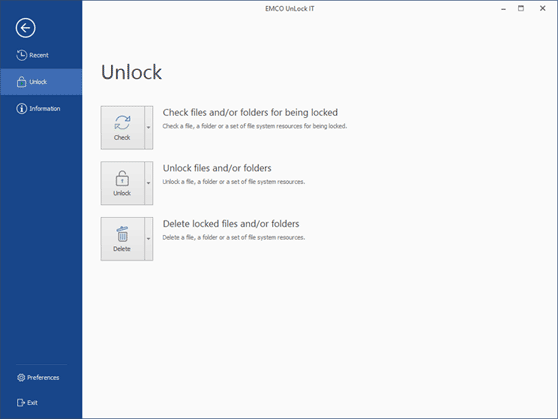 New and improved features
Added mapping library handles locks detection
Improveed high DPI application appearance
Resolved issues
Compatibility problems with Windows 2003 and lower
A potential application crash after closing the Lock Details dialog
The close handle problem when initiated in the Lock Details dialog
A problem with importing the recent unlocks data from previous versions
Version 6.0
August 2, 2021
New, simplified user interface
The new user interface is designed to simplify the management of locked resources. Now on the main screen, you can see the status of all analyzed resources and can check, unlock and delete required files and folders. The new Details pane located at the bottom of the main screen shows the status of the selected resource and a summary of the locks detected for this resource. Detailed information about all discovered locks is available in a special dialog where you can manage them.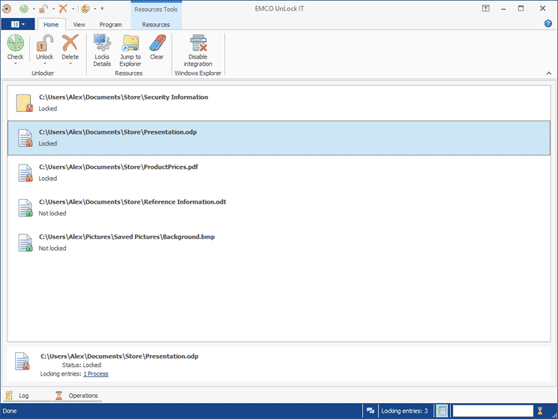 Detect and unlock network shares locks
When a network share is created for a file or folder, the shared resource becomes locked when other users access it. The program now detects this lock type. The program allows unlocking shared resources by closing opened share handles to files and folders. Share locks are discovered automatically and displayed together with other lock types.