Network Host Monitor: Connections Tracking Tool (free for 5 hosts)
A network host monitor tool for tracking connection to network hosts. It performs hosts monitoring by executing ping commands and analyzing replies to detect if connections are alive. EMCO Ping Monitor has extended features to track connections status and detect connections lost and restore events. It allows sending notifications about connection status changes by e-mail and SMS, and executing event handlers when connections are lost or restored.
EMCO Ping Monitor: Network Monitoring Tool
Effective host monitor is a primary tool for every system administrator. It allows to make a real-time host monitoring in order to check that mission-critical servers and hosts are up and available in the network. Usage of host monitor can help to automate host outages detection and prevent data loss, critical services failures and other serious threats.
EMCO Ping Monitor is an automatic host monitoring solution that helps to keep network infrastructure under control. It can work in standalone mode to make hosts monitoring by pinging network hosts on a regular basis and analyzing reply to detect connections states.
Real-time hosts monitoring and detection of connection statuses are basic features of EMCO Ping Monitor. But this tool has a set of extended features that allows using it not only for outages detection, but also for troubleshooting. First, it provides regular statistics about connections quality, that can be used for early diagnostics. Second, application can send notifications on various events. Third, it can execute custom handlers on connections lost and restore events.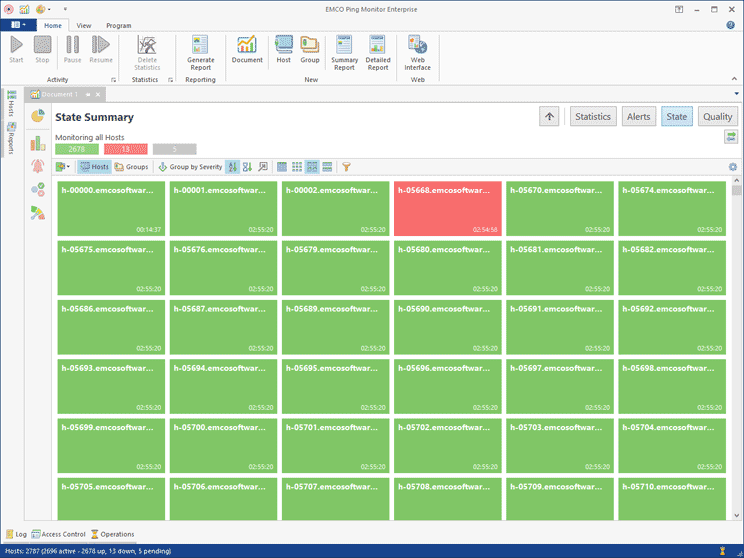 Features and Benefits: Network Hosts Monitoring
Connection Status Monitoring
Application allows detecting status of connection with any monitored host in a real-time by executing ping operations. It's a most effective and secure way to check connection.
Custom Event Handlers
When connections to hosts are lost or restored, application can launch configured event handlers. You can register any command, batch file or application as event handler.
Configurable Terminate Actions
Terminate action can be executed on a local computer if connection to all monitored hosts is lost or cannot be retrieved. In this case you can run shut down, reboot or other operation.
E-Mail and SMS Notifications
You can receive notifications about all detected events by e-mail or SMS (using Email-to-SMS service). Notifications are customizable and you can change them if you like.
Detailed Log Info
Monitoring information for every host is available in the application log. You can find there entries about connection status changes, regular ping statistics, etc.
Customizable Settings
Application provides an ability to customize it through various settings. You can set custom ping timeout and interval, outage conditions, notification rules, Tray options and other settings.
EMCO is Trusted by