Ping Test Tool: Automatic Network Hosts Visual Pinger (free for 5 hosts)
A ping test tool for checking availability of network hosts. By running ping tests on a regular basis it allows to check connection to hosts and also detect connection loss and restore events. EMCO Ping Monitor can be launched to work in 24/7 mode to execute pings and report statistics about the quality of connection including percent of failed pings, minimum, maximum and average ping response time, number of detected connection outages, etc.
EMCO Ping Monitor: Ping Test Tool
Ping test is the effective way to check availability of a network host. You can execute ping test manually by using correspondent command of operation system. But it can be used only for one-time test of a one host. If you need to make a continuous check of connections to multiple network hosts, you have to use an automatic ping test tool.
EMCO Ping Monitor is an automatic connections tracking tool. It can work in a standalone mode to execute ping tests and analyze replies from hosts to detect their connection status. Repeated, regular execution of ping tests allows getting information about the current state of every connection and about its quality over time.
In addition to automatic connection tracking features, EMCO Ping Monitor provides notification and event handling features. This enterprise-level functionality allows to simplify and automate connections monitoring and all related tasks. For example, you can rely on EMCO Ping Monitor to receive notification about connection lost and restore events and execute specific action handlers.
The main feature of EMCO Ping Monitor is an ability to execute ping tests automatically with a defined time interval. You can launch it in the System Tray to track connections to network hosts and notify you about connection quality, status changes, etc.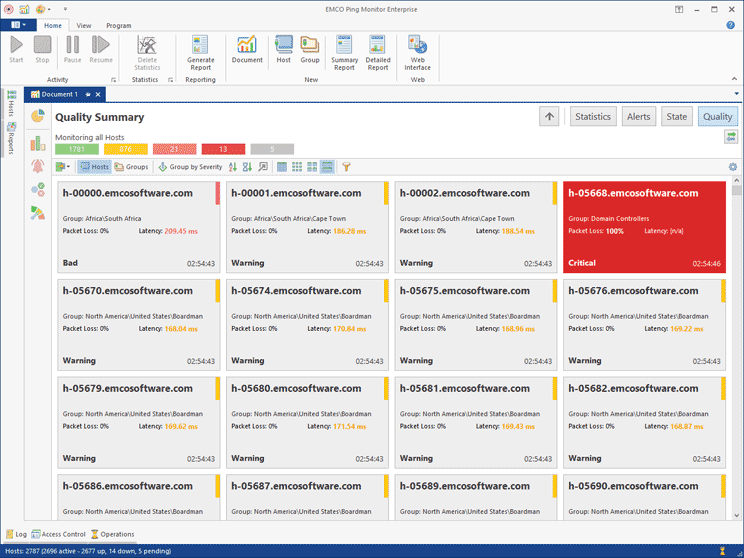 Features and Benefits: Automatic Ping Tests
Connection Status Tracking
Application uses ping tests to check connection with every configured host. Ping tests are executed on a regular basis to guarantee a real-time connection status monitoring.
Connection Loss and Recovery Detection
Continuous connections statuses monitoring allows detection of events when status for any host is changed, i.e. when connection was established, but now is lost and vice a versa.
Connection Quality Report
Together with information about current connection status for every host you can also get an integrated connection quality statistics. It includes number of outages, uptime percent, etc.
Regular Ping Statistics
Ping statistics is reported automatically for every host as System Tray balloons and e-mail notifications. This statistics includes total and failed number of pings and response time.
Configurable Event Handlers
Application can execute defined event handlers when connections are lost or restored. You can setup any command, batch file or application for execution as event handler.
Alerts and Notifications
Connection monitoring and ping tests work in automatic mode and you don't need to stay near computer all time. Application will notify you by e-mail or SMS about all important events.
EMCO is Trusted by