Remote PC Power Management - Software Solution for Computer Networks
This automatic PC power management software allows you to manage network PCs remotely. You can perform a Shutdown, Wake-on-LAN, Reboot or other operations on network PCs remotely. You can manage multiple PCs at once and schedule power management operations, so the network PCs will be turned on and off according to your custom automatic power management scheme. This allows reducing electric power consumption in your organization.
EMCO Remote Shutdown: Remote PC Power Management Tool
EMCO Remote Shutdown is a PC power management tool that allows you to automate the wake-up and shutdown of network PCs in your organization. An automatic power management allows you to reduce the electric power consumption.
The main advantage of using EMCO Remote Shutdown as a PC power management solution is the simplicity of its setup and maintenance. You don't need to change or upgrade your network hardware since the program can successfully run on the existing one. You can set up and run the program in your environment within a few minutes.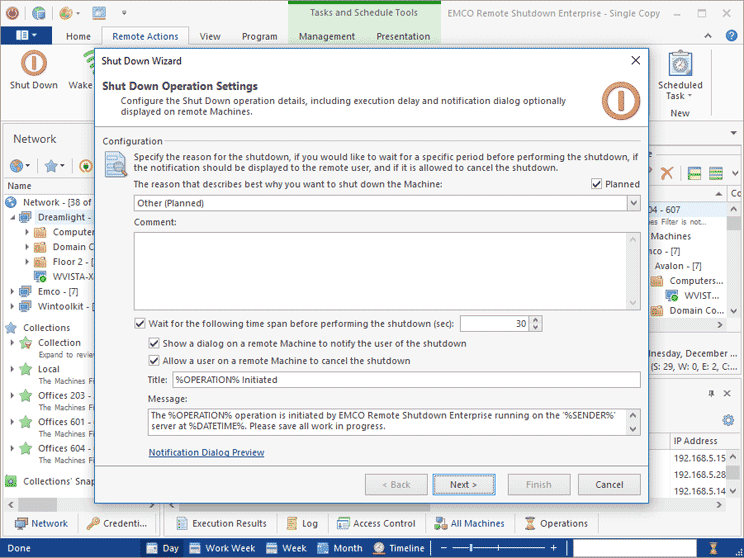 Remote PC Power Management: Main Features and Benefits
Compare Features and Select the Edition
The program is available in three editions with the different set of the features.
Compare Editions
Free Edition
The Free edition is freeware that allows managing up to 5 PCs in a single remote operation. This edition allows scheduling up to 2 tasks for every supported operation.
Professional Edition
The Professional edition doesn't limit the number of PCs that can be managed by a single remote operation. Neither does this edition limit the number of created tasks.
Enterprise Edition
The Enterprise edition doesn't have limitations for the number of managed PCs and created tasks. Multiple clients can connect to the same server and work concurrently through a LAN or the Internet. This edition also offers web access to the execution results of remote operations.
EMCO is Trusted by