Auto Shutdown and Wake-on-LAN - Software Solution for PC Networks
This power management software allows you to automatically shut down and wake up network PCs. The program can be used to manage all PCs in your organization remotely from a central location. Using scheduling, you can automate shutdown, wake-up, reboot, sleep, hibernate and other operations and execute them at a defined date and time. The program can execute remote operations recurrently on a daily, weekly, monthly and yearly basis.
20
Christmas Sale
Order any new licenses and upgrades at a special price until December 31, 2019.
EMCO Remote Shutdown: Auto Shutdown and Wake-on-LAN Tool
EMCO Remote Shutdown allows you to shut down, wake up and execute other operations remotely on network PCs. You can run operations manually or schedule them for automatic execution.
EMCO Remote Shutdown is a software solution that helps you to automate power management operations across your organization. It can work in networks of any complexity, including enterprise networks with multiple domains and workgroups. The program doesn't require using any specific hardware, and it doesn't require you to install any software on remote PCs manually.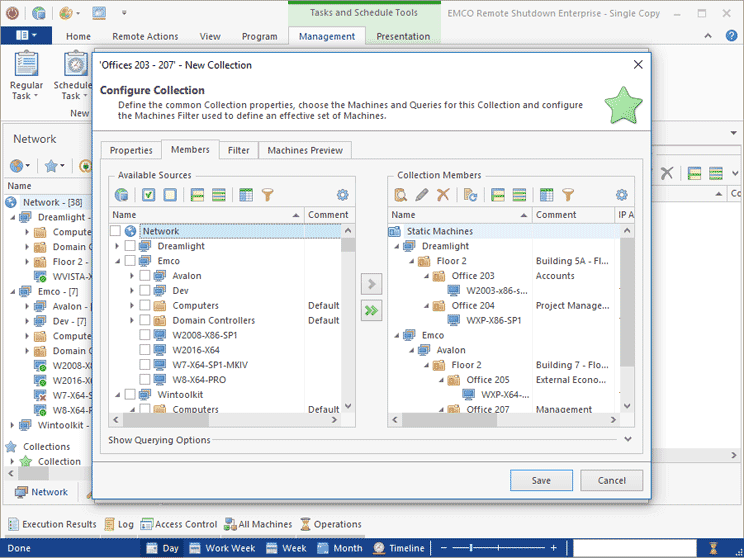 Auto Shutdown and Wake On LAN: Main Features and Benefits
Compare Features and Select the Edition
The program is available in three editions with the different set of the features.
Compare Editions
Free Edition
The Free edition allows creating up to 2 tasks of every type and manage up to 5 remote PCs in a scope of a single operation. It works as a Windows program, so scheduled tasks can only be executed if the program is started in an active Windows user session.
Professional Edition
The Professional edition allows creating unlimited tasks and does not impose any limitations on the number of PCs that can be managed by a remote operation. It works as a Windows service that executes scheduled tasks even if there is no active Windows user session.
Enterprise Edition
The Enterprise edition doesn't have limitations on the number of tasks and allows executing a remote operation on an unlimited number of remote PCs. It works as client/server, and multiple clients can connect to the same server locally or remotely through a LAN or the Internet and work concurrently, so the program can be used by multiple users. This edition also offers web access to the execution results of remote operations.
EMCO is Trusted by