Create MSI Packages in a Few Clicks Using Visual MSI Builder
EMCO MSI Package Builder is a visual MSI builder that allows creating silent MSI packages ready for remote deployment. You can create an MSI package manually from scratch using an intuitive visual installation editor or utilize the file system and registry changes capturing technology in order to create an MSI project and build MSI automatically. You don't need to have any special knowledge or take training in order to use the application since all operations are automated.
EMCO MSI Package Builder: MSI Authoring Tool
EMCO MSI Package Builder is a tool for IT professionals who need to create MSI packages and repackage legacy installations into the MSI format so as to prepare them for unattended remote deployment over the network.
It's really easy to create MSI packages using EMCO MSI Package Builder even for people who don't have any experience with installation authoring tools. In order to build an MSI, you don't need to learn MSI specification or take training. Instead, simply define what your installation should do in terms of file system, registry and other changes using the intuitive interface and get an MSI package that would implement your ideas.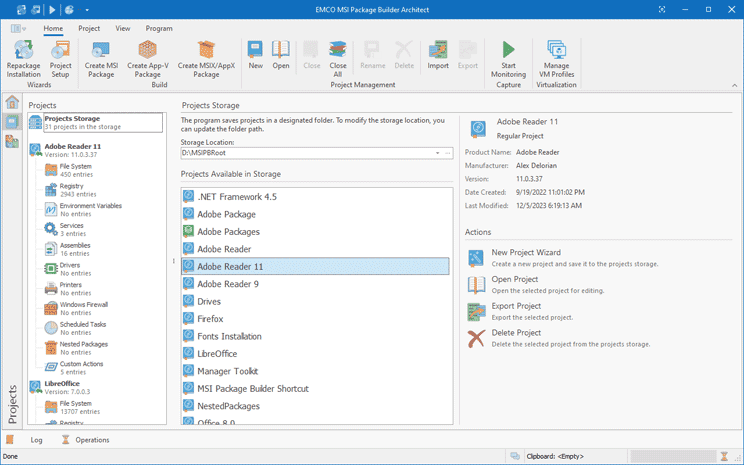 EMCO MSI Package Builder: MSI Creating Features
Compare Features and Select the Edition
The program is available in three editions with the different set of the features.
Compare Editions
Professional Edition
The Professional Edition offers options for manual MSI creation using a visual MSI editor and automatic MSI creation using the changes capturing technology. It can be used to create MSI packages, convert EXE to MSI and modify existing installations.
Enterprise Edition
The Enterprise Edition features a visual MSI editor and the changes capturing technology with an extended set of functionality. It allows for both manual and automatic building of complex MSI packages that install system services and modify environment variables.
Architect Edition
The Architect Edition includes all the available MSI editing and repackaging features and allows generating App-V and MSIX/AppX packages from the same project data, so you can generate MSI packages, App-V and MSIX/AppX packages depending on your needs. You can use this edition to convert existing Windows applications to App-V and MSIX/AppX packages.
EMCO is Trusted by