Change and Customize Installations to Pre-Configure Their Options and Behavior
EMCO MSI Package Builder is an installation authoring tool, that offers an easy approach to customizing and changing existing installations. It can be used to create custom MSI packages from existing installations when you need to extend or change the installation behavior. The application allows you to capture the original installation process and produce a silent MSI package that makes an identical installation and can be customized. Using this approach, you can customize any third-party installations.
EMCO MSI Package Builder: Installation Customization Tool
EMCO MSI Package Builder is an MSI editor used by network administrators in order to customize and change installations and prepare them for network deployment.
Installations customization and modification belong to the main features of EMCO MSI Package Builder. You can apply various changes to existing third-part installations: for example, modify installed resources, merge several installations into one, add shortcuts, pre-configure options, etc. The application allows you to perform MSI decompilation and repackage installations to an MSI in order to access the installation data and change or customize it.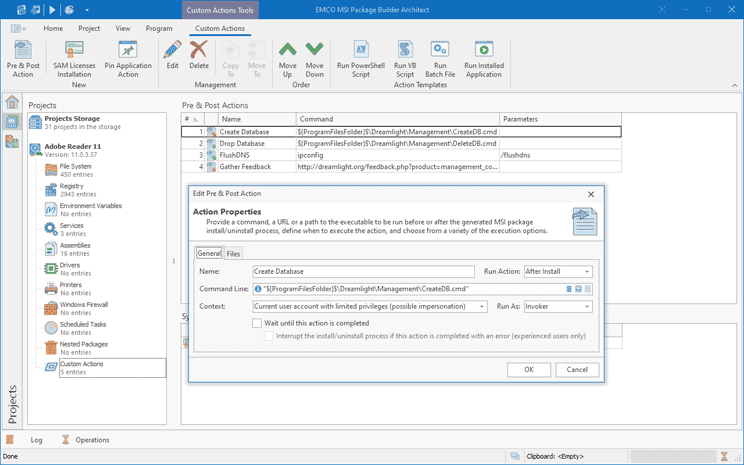 Installation Changing and Customization Features
Compare Features and Select the Edition
The program is available in three editions with the different set of the features.
Compare Editions
Professional Edition
The Professional Edition allows capturing changes of third-party installations using the Live Monitoring technology. Captured changes can be modified and used to generate customized MSI packages. Also this edition includes MSI decompile feature that makes possible to open and modify existing MSI packages.
Enterprise Edition
The Enterprise Edition includes advanced installation customization features. It allows generation of custom MSI packages that include services installation and environment variables changes. This edition includes an advanced installation capturing and decompile technologies that help to customize complex installations.
Architect Edition
The Architect Edition includes all the available MSI repackaging features that allow you to customize installations. This edition also allows generating App-V, MSIX/AppX packages using the same project data, so you can generate MSI packages, App-V and MSIX/AppX packages depending on your needs.
EMCO is Trusted by