What's New in Version 3
Here you can see information on the latest releases of the program. Get notifications about new releases. RSS Feed
20
Christmas Sale
Order any new licenses and upgrades at a special price until December 31, 2019.
Version 3.0.1
July 16, 2009
New and improved features
Improved Live Update mechanism and proxy support
Improved Getting Started section in the integrated help
Resolved issues
Access error during the remote service's installation
Time lag between abort command execution and remote operation cancellation
Improved performance of network operations
All network operations were optimized to work in parallel in order to serve a large number of PCs simultaneously in enterprise networks. The total performance score was improved up to 170%. Depending of the size of your network you can configure the total number of working threads to execute remote operations in parallel. Such tuning allows you to reach the maximum performance.
Better logging
Error messages in log provide detailed information about detected problem. Using this information you can troubleshoot the problem quickly.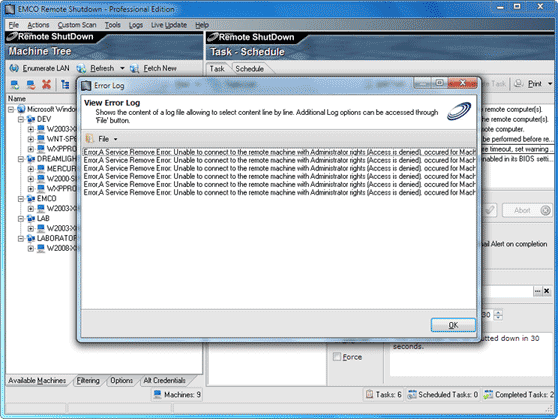 Alternate credentials
The new alternate credentials setup allows using the application in a complex network environment that consists of domains and workgroups. Now you can set specific credentials for domains and workgroups as well as for particular PC.
Integrated help
Application includes updated help file. Now it provides a real-life examples of application usage scenarios and contains a lot of tips that can help your work.