What's New in Version 3
Here you can see information on the latest releases of the program. Get notifications of new releases. RSS Feed
Version 3.1
September 29, 2009
Auto-monitoring option
New Auto-monitoring option in application preferences allows automatic launching of host monitoring on application start up. If this option is turned on, then configured monitoring operation will be automatically started on application start up. It is useful, for example, if you need to make continuous host availability control by adding Ping Monitor to the system autostart, because Auto-monitoring option allows you to start host monitoring automatically.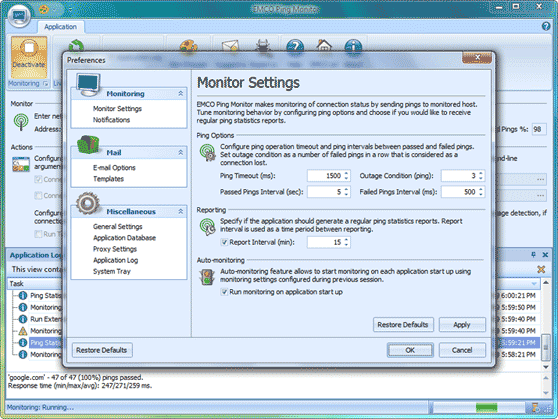 Options update
Starting from this version you can change monitoring and notifications options without monitoring restart. New options are applied immediately after change even if monitoring is currently turned on.
New and improved features
Improved diagnostics for connection failures
Resolved issues
Connection status is reported as lost if remote host could not be resolved
Error when starting second instance of the application
Version 3.0.1
August 31, 2009
Resolved issues
Some hyperlinks in the integrated help don't work
Typos in the integrated help
Version 3.0
August 28, 2009
New product name
Starting from this version, the product name was changed to EMCO Ping Monitor. The new name more accurately represents a current functionality of the application and a set of planned features.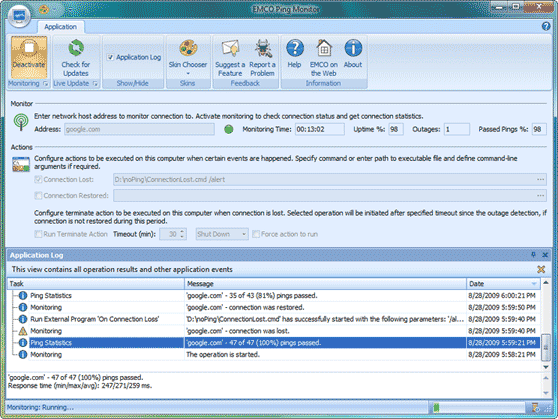 Configurable database location
New tab on the Preferences page allows you to define a location of the database storage. Using this setting you can create multiple application configurations and easily switch between them, for example, when you take configuration from our colleague, while keeping your own configuration untouched.