What's New in Version 8
Here you can see information on the latest releases of the program. Get notifications of new releases. RSS Feed
Version 8.0.7
February 16, 2021
New and improved features
Minor performance improvements
Resolved issues
The conflict with the NordVPN/WireguardVPN
Possible error on creating a host or a group
Incorrect Timeout, TTL and Packet Size options overriding for a gateway
Version 8.0.3
November 20, 2020
Resolved issues
Web interface that fails to show state and quality monitor pages for 10,000 or more hosts
The 'Static IP' host's configuration option that doesn't work as designed
Version 8.0.1
November 11, 2020
Optimized monitoring engine
The new monitoring engine was designed to optimize the monitoring performance and reduce the system workload. The new engine reduces the CPU workload by 50% and the memory consumption by 25%. The data storage mechanism has also been optimized to reduce the disk storage consumption by 25%.
Monitoring of 8,000+ hosts
The new monitoring engine allows increasing the number of monitored hosts with no hardware upgrade. Using the Enterprise edition of the program, you can monitor 8,000+ hosts on modern hardware. It's three times as many hosts as it is possible to monitor using the previous version of the program on the same hardware configuration. The practical limit of monitored hosts depends on the used hardware.
High-precision latency measurement
The Professional and Enterprise editions of the program include high-precision latency measurement with 0.01ms precision. It allows using the program in low-latency networks for precise measurements of the ping latency. High-precision latency measurement is enabled by default, except in the Free edition, which uses the Windows standard latency measurement with 1ms precision.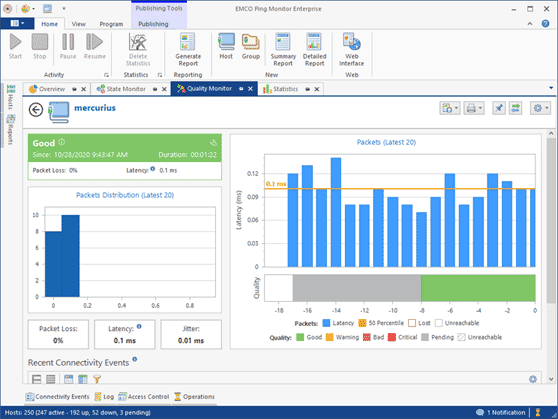 Client/server architecture and remote access
The Free and Professional editions of the program now use the same client/server architecture as the Enterprise edition. The server works as a Windows service to perform hosts monitoring, send notifications and generate reports. A GUI client can connect to the server and work with the collected information. All editions now provide a monitoring web interface. The Free edition of the program allows establishing a single connection to the server. The Professional edition allows two concurrent connections to the server. The Enterprise edition doesn't limit the number of simultaneous connections.
New and improved features
Windows compatibility improvements
Respect the IP4/IP6 protocols priority when resolving the host's address
Improved Time Zones support in reports