What's New in Version 9
Here you can see information on the latest releases of the program. Get notifications of new releases. RSS Feed
Version 9.0.1
April 1, 2021
New and improved features
Added application capabilities support for MSIX/AppX packages
Resolved issues
The signing error during an MSI package creation
The problem with Hyper-V virtual machines enumeration on non-english operating systems
The application won't start problem for MSIX/AppX package applications that require admin rights to start
Version 9.0
March 18, 2021
Support of VirtualBox
The program now supports VirtualBox. The Enterprise and Architect editions of the program allow you to monitor installations remotely on VMs hosted by VirtualBox servers. It allows you to save your time for preparing a repackaging environment and switch VMs easily.
During repackaging configuration, you can select a VirtualBox VM to be used for monitoring. The program automatically prepares the VM, copies the installation to be repackaged, and activates monitoring on this VM. You only need to follow the manual installation steps on the VM. Once the installation is finished, the program collects monitoring data from the VM and generates a package.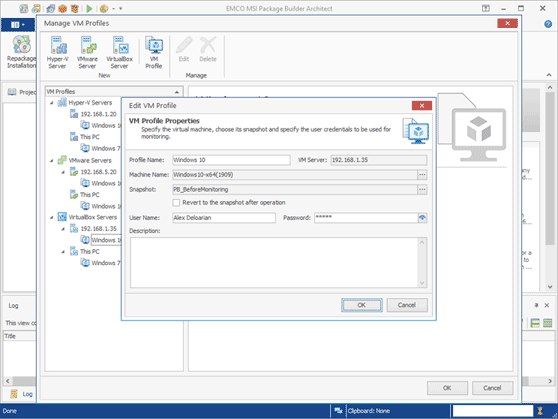 Backstage view
The new application menu is now represented as the Backstage view. It provides easy access to all main actions in the program. The navigation available on the left side represents the main actions and allows you to create a new project, open an existing project, start repackaging, get information about the program and access the program's preferences. On the right side of the Backstage view, you can find the corresponding actions, that allow you to run a specific action in the program. All actions are organized to provide you with quick access to all important actions in a single view.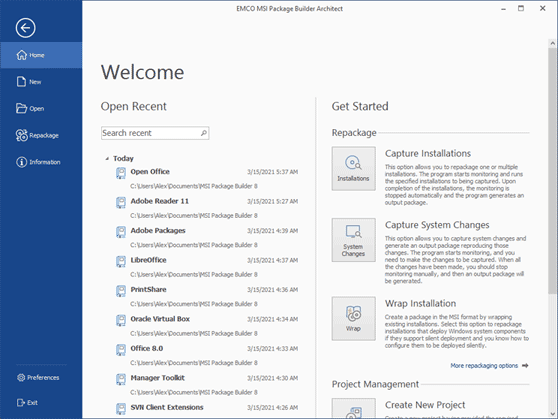 Directory attributes capturing and management
All directory attributes, such as Read-Only, System and Hidden, are now captured by the program, so the directories created by a deployed package have the same attributes as the directories created by the repackaged installation. The attributes can be set or changed manually on the installation project if required.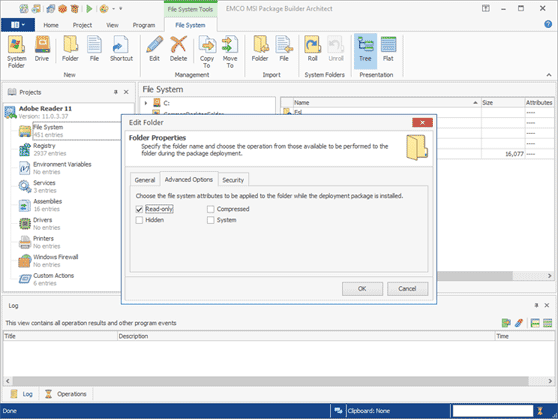 Installation project verification
To avoid misconfiguration the program verifies the installation project before generating an output package. The program detects the availability of the project resources, checks configuration options conflicts, and performs other validations to make sure that there are no potential problems. If any problems are detected, the program provides detailed information about the problem and suggests the steps to resolve it.
New and improved features
Significant deployment speed optimization for packages generated with the Smart All Users mode option
Packages with the Smart All Users mode enabled can use the Windows Task Bar pin actions
Usability and UI improvements
Resolved issues
MSI generation errors when a project includes services with '..' in the path
Some files can be potentially skipped during MSI package generation